So, I got a new car, a 2017 Ford Escape Ti.
I was baffled by the behavior of the interior lights? There arre 4 bright white lights, two in the front, and two over each rear door. They come on all the time- when you open doors or unlock the thing or whatever.. and there was no way to shut it off. You just had to wait 25 seconds or something. I hated it. I want to roll up to a dark mountaintop overlook, kill the engine and listen to some tunes. NOT turn on all the lights.
So, I investigated my options for a software solutions pretty intensely. I got into ODB programming, leaned a lot, but couldn't enable any Dark or Police mode for this model year.
I took it to the dealer- they looked around with the Tool and couldn't find a Dark Mode for me, either.
So.. I went with a hardware solution.
There is a wire up under the center console that will disconnect CENTRAL control of the FOUR overhead lights (not the cargo light).. while preserving the push-on function.
I also snuck a switch in to preserve original function (optional)
Ambient lights, puddle lights, DRL.. all unaffected.
Here is how it's done:
1) Remove the overhead console.

It is just clips. I started from the front with a plastic pry tool. This was the scary part.. cuz maybe I break it all. A new assembly is $150 or something, so that's the risk. BUT.. I didn't break it. 2 clips up front, 2 on the sides.
There are 3 wire harnesses. Disconnect them if you want.
2) identify the GREY connector.. find the wire in question. Mine was purple-on-grey.. opposite the yellow connector. I have a picture labelled below.
Clip it, reinstall and you are done.
ME.. I wanted reversibility… although this mod would be fine as it is. But I wanted it, so I wired a switch in.
(OPTIONAL)
Step 3, wire in a switch.
I used a mini-toggle.. pictured below, drilled into the sunglass case. The pics should tell the tale.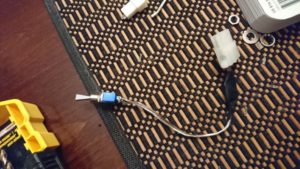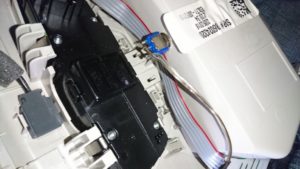 THIS SIMPLE MOD makes my night-time experience much better.
When I enter the car, or turn off the engine.. all the exterior lights are normal…the ambients are normal, the puddle lights are normal. The 2 map lights up front, and the 2 over the rear doors DO NOT LIGHT automatically.
As mentioned, they still push on/off any time.
I'll try to get some nighttime pics.
IT'S AWESOME